The EIBA is pleased to acknowledge the following Official Partners & Suppliers
"I don't regret one moment" says England star Sandy Hazell as she opens up about her bowls career on and off the green

Forty-seven years after first picking up a bowl, one of the game's most recognisable players says she still loves the game and its challenges and wouldn't change a thing.
"England Indoor International Sandy Hazell believes there is something new to be learnt every time she steps on to the green. There is no sport quite like it and no two games are ever the same," she said.

"I love the inclusivity of the sport in terms of ability, disability, sex and age- what other sport is there where a novice could be playing with or against a World Champion, a man can play against a woman, or a nine-year-old can play with or against a 90-year-old?
"Some might say I

'

m a perfectionist, but I still enjoy the challenge of trying to be the best I can be and bowling the perfect bowl."

Sandy is no stranger to good bowls, having won a haul of titles and accolades.
When pushed to choose her top achievements, she lists winning the Indoor National Singles, World Singles and British Isles Singles in the 1996/7 season, winning a Commonwealth Games Bronze Medal in the Triples with Jamie-Lea Winch and Sian Honnor in Delhi in 2010 and being crowned Hong Kong Classic Singles Champion two years later.
The final highlight was winning the EIBA National Women

'

s Fours at Melton in 2014, when at the same time the Swale men were also winning the National Men

'

s Fours on the rink next door.
"That was an unforgettable moment,

"

Sandy said, "But I can honestly say that every national title has been very special in its own way and been played with special people.
"Like many bowlers, I also enjoy the social side of the sport, I have made so many friends all over the world and have been very lucky to play at all levels."

Sandy, 57, started bowling outdoors at the age of ten, joining father John at The Co-op Club in Sheerness on the Isle of Sheppey in Kent. As the only female at the club, she began to play with and against the men in local leagues and competitions.
"The members were really good to me and welcomed me into the fold," Sandy said.
"Initially I just loved the social side of the game and the camaraderie. The Co-op club was not a seriously competitive club, but we had such good fun playing. I was always allowed into the club after our games for a lemonade and a packet of crisps and used to sit and listen to the men telling jokes and funny stories. They were really good times."

After about eight years Sandy also became a member of St. Georges BC in Sheerness, a competitive club with a handful of women members. Here she continued to play domestic leagues and local competitions and was instrumental in affiliating the Ladies Section to the Kent County Women

'

s Bowling Association so they could start to play county competitions.Indoor bowls started in 1987 when Sandy was asked to join a mixed four with Terry Branchett and Lee Shoobridge who would become life-long friends.

By 16, Sandy had started winning club and Island (Isle of Sheppey) competitions. She was selected as an Outdoor Junior International in 1990 and would play for the senior team from 2007 to 2016.

After making her indoor debut in 1998, Sandy remains part of the team and has been captain since 2006.

">



She recalled: "I remember at my first Indoor series, I found myself alongside the likes of Norma Shaw, Mavis Steele, and Mary Price, players I had only read about, and I found it quite daunting. I didn

'

t know too many of the players and, although they probably don

'

t know it, I was so thankful to Doreen Hankin, Katherine Hawes, Catherine Popple and Jean Baker, who went out of their way to make me feel included.
"I have never forgotten their kindness and, as Captain, I always try to ensure all new caps are integrated into the team and that they feel welcome and able to ask any questions or raise any concerns.
"Thankfully, rules and dress codes have relaxed over the years but, in the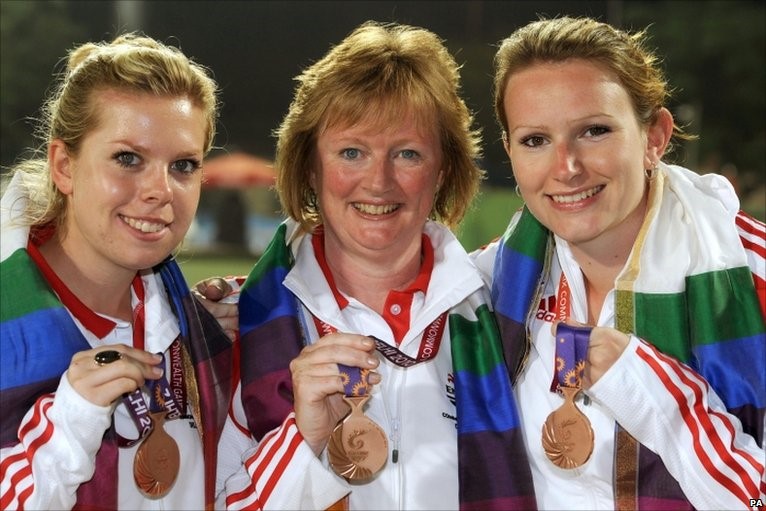 past, dress code was very strict. At my first series we played in shirts, ties, skirts, waistcoats and cardigans, along with tights and brown shoes, and outdoors had to play in hats. Now we have the luxury of playing in kit more akin to sports than formality.



"

Bowls has taken me all over the world and given me experiences I never even dreamt of when I took up the sport as a young girl. I feel very privileged to have played for my Country and still feel the same pride today playing in an England shirt as I did 30 plus years ago."

It is testament to her dedication to bowls that Sandy continues to win national titles.
She said:

"

I remain extremely competitive, take my bowls seriously and still have that burning ambition, desire and will to win.
"After years at Mote Park, where I enjoyed my singles success but also won the National & British Isles Pairs with Ann Hill in 2004, in 2009 I took the extremely difficult decision to join Swale IBC. For the first time in my career, I was playing with people of my own age and younger, and I definitely feel this shake up gave me a new lease of life."

Since joining Swale sandy has won the National Pairs twice, National Triples four times, the National Fours three times and the National Mixed Pairs with Perry Martin.
She said: "I have been part of the Swale Team which has also won several National team events (Yetton, Top Club and Egham). We are a very competitive club and I have been fortunate to play with like-minded people. I feel very lucky as, within our combinations, we are also good friends both on and off the green, which is so important.


"

We enjoy ourselves whilst playing, stick together and there is no blame culture. It goes without saying that we enjoy ourselves socially off the green too. I feel I play hard but fair on the green, but am the first to the bar after the game to buy my opponent a drink."

Yet despite such a glittering career, intriguingly Sandy doesn

't

believe she is naturally talented.
"I work hard at my game and know I need to be playing at least three times a week indoors to keep any consistency," she said.
"If I have an important game coming up and I haven

'

t played for a while, I will go to the club and put the time in practicing as I don

'

t like letting other people down. I believe that (in bowls) you need to be as fit as you possibly can, both mentally and physically. I try to walk regularly and have a cross trainer in my garage. I also try to eat as healthily as possible (particularly during the week). I regularly have a sports massage and also see a chiropractor. I prepare for any competitive game by ensuring I have eaten before I play, I get to the venue approximately 30 mins before the game, which gives me time to settle and do some stretching etc. and ensure I am fully prepared for the start of the game. I try to learn the characteristics of rinks early and fortunately am quite good at remembering rinks we may have played on before, you need to make use of any advantage as much as you can.

"



The last three years have seen Sandy transition to selector and management roles for Bowls England including being the Women

'

s Assistant Team Manager for the Commonwealth Games last year.

She said: "I have had many 'champagne moments' in my bowls life, but being part of these Games and seeing, enjoying, and sharing the successes of the England team, is definitely one of my highlights.
"I suppose the best bit in a strange way, is still being part of the whole set up, but not actually having the pressure of playing and performing to such a high standard. There is still pressure, but a different type of pressure.
"I love seeing people perform well and realise their dreams. Being part of the management team, I still felt a close bond with the players and enjoyed watching their success as much as if it were my own. I cried at every medal ceremony, felt a real part of each and everyone

'

s success and enjoyed it as much, if not more than when I played myself."


Despite having played at Commonwealth Games herself, Sandy admits it was a "totally different experience" being involved in the management side.
"There were so many different jobs to focus on and details to be confirmed," she said.
"Apart from ensuring everything was in tip top condition for the players at the College, there were meetings to attend, bowls to register, players to register, kit to organise, practice sessions to arrange, daily updates of results and playing schedules. It was just so much paper work, but I love a bit of detail, so was in my element!
"The set up at Victoria Park was truly amazing. The greens looked the best I have ever seen them, the volunteers were brilliant, always smiling, and eager to speak with everyone. Vocal and appreciative crowds, huge stands, and the spectator shopping and food village, all helped to make it a great event. Leamington was buzzing.

"Prior to the games I never appreciated the significance of a 'home games', but having experienced the support that the England players received throughout the whole tournament, I now realise its importance. The support was immense from start to finish, and I know the players fully appreciated it all. It also gave families the chance to support their own and there can be no greater feeling than having your loved ones around to see you achieve your dream and to share the moment with you.

"On reflection, the games experience was emotional. It had its highs and lows and being on the management side you want everything to be perfect for your team and for them to play well and enjoy the whole experience. You also bowl every bowl and feel every emotion with them.
"We overcame illness, injury, bad news from home and also a batch of white washing that came back pink! These Games also gave me the chance to be involved with the Para Team. What an inspiration they are.
"It was a pleasure to work with them and to see first-hand the adversities they overcome on a daily basis, but always with a smile on their faces. Hopefully we all learnt something from each other throughout the journey. The whole experience was fantastic and everything I hoped it would be. I got the chance to work alongside some great people and have made so many memories that will stay with me forever. I was honoured to have been involved and play my part."

This week Sandy was named Bowls England Interim Women

'

s Team Manager.
She said:

"

In difficult circumstances I was both shocked and honoured. I wish John the nest and look forward to him returning to the fold in the near future. I have big shoes to fill, but will do the job to the best of my ability and look forward to the challenge."

As someone who has played at the highest level, she is perfectly placed to help efforts to drive the game forward.
Indeed, she admits one of her biggest frustrations about bowls is when national Governing Bodies introduce new rules, only for counties or clubs to put a stop to them.
One example is when Swale IBC introduced black trousers and another club in the county refused players on the green wearing them.
Sandy said: "We seem to spend far too much time and energy worrying about what people are wearing, rather than focusing on the fact our game is in great decline.

"Although I feel fortunate to have started playing bowls at a young age, it wasn

'

t an easy path and looking back it

'

s a wonder how and why I continued to play. I

'

m frustrated that the obstacles put in the way for lady bowlers years ago has caused the

'

missing generation

'

(those in their 40s/50s) we are currently experiencing. This is the age group that should be now running the game and planning for the future, but due to the situation 30 years ago, there are not enough of us involved in the sport. There is a void in our game that can

'

t instantly be filled.

"When I first started playing, there were clubs who would not allow me to play on their greens until I was 16 and even when I first joined St Georges BC I was only allowed to play in the evenings if there was a rink free that the men were not using. Ladies County and National competitions were all played in the afternoons at 2.30pm. This was non-negotiable, so consequently I couldn't play competitively for quite a number of years due to either being at school or working full time. When I did, I had to use almost all my annual leave to do so. Even women's friendly matches were only played mid-week, there were no such thing as mixed matches. We weren't allowed to play at weekends, but were required to make the sandwiches and tea for the men.

"The dress code has always been strict and it wasn

'

t that long ago for playing in County competitions outdoors, we had to turn up to play in full uniform

-

blazer, cravat, hat, gloves, tights, skirt, blue walking-in shoes, blue handbag. The pleats in our skirts were sharply ironed, we had standing up skirts and sitting down skirts and woe betides anyone who dared to sit down in their standing up skirt.

"I personally had further barriers to overcome in 1996, when despite having qualified through to the PBA finals in Stevenage, (the first lady to do so), the EIBA, who at the time were purely a men

's

organisation, threatened to ban me from playing, just for being female. Fortunately, the PBA intervened, and I was

'

allowed

'

to play in the competition I had rightly qualified for. Shortly afterwards, as the current Ladies World Champion, I was invited to play in the International Open at the Preston Guild Hall. Despite being welcomed, I was fully aware that the majority of men taking part did not agree that women should be invited to play in 'their' world championships

"Thankfully, things have changed over recent years. The amalgamation of County and National Associations is very positive and there are now more opportunities for Juniors and ladies to play a full part in bowls without the constraints of playing times, stuffy uniforms and the obstacles that were present in the past.
"To help move the game forward, I feel it is important to create pathways at Club, County, National and International levels, for people of all ages to enter our sport and to participate at whatever level they choose."

Sandy has some top tips for clubs in the quest to make the game more attractive and recruit new members:

1.Most clubs are private clubs, but if a stranger does walk in, we need to welcome them, talk to them and tell them about the club and the game. Let them have a go. Too often we bombard new recruits with theory and the rules. To start with just let them enjoy the actual playing and introduce the laws at a later date.

2. Initially introduce the game to them with a short sharp format for play

-

maybe sets. Playing for two and half hours can be daunting and far too long for new bowlers (of all ages) to keep their focus. Let

'

s try to create a much more relaxed atmosphere generally and welcome members into our clubs.

3.

Make available our facilities/meeting rooms to other organisations (businesses, schools, societies), which in turn might result in the recruitment of new members. Family days, where you can all try the sport together, would be another way of introducing the sport to a wider audience.

4. Relax certain dress codes. There is a time and a place for the correct uniform, but for example, I can

'

t see the problem in wearing casual clothes when practising.

She said:

"

The great thing about bowls is that it gives you the opportunity to play at the level you choose, whether it be casual, club, local competitions, county, national or International levels. It

'

s a sport you can play all year, at any time of the day and being indoors, you are not dependant on the weather. In comparison to a lot of other sports, it

'

s relatively cheap to play, no need for a huge initial outlay and most clubs provide equipment and some form of coaching. The sport also provides good, gentle exercise. It's a great social sport, you will never feel lonely stepping into any bowls club as there is always someone there to sit and have a drink with or a chat.

"I have been very fortunate to have a long career in bowls. Like many, I have made sacrifices along the way and experienced highs and lows. I have dedicated a lot of my time to the sport, but have been lucky enough to have reaped the rewards. I don

'

t regret one moment.

"



Sian Honnor.

Previous Article John & Beata Hollowell
March 2023